Schedule
Saturday
| Hour | Attraction |
| --- | --- |
| 10:00 | Coastline |
| 11:00 | Joe Higgins |
| 12:30 | Ivonne Hernandez |
| 1:30 | Cookeilidh |
| 2:30 | Blackthorn |
| 3:30 | The Clanns |
| 4:30 | Black Angus |
| 5:30 | Pipe Band Salute |
| 6:30 | Tom Morrissey |
Sunday
| Hour | Attraction |
| --- | --- |
| 10:00 | Celtic Reflections |
| 11:00 | Sarah Tradewell |
| 12:00 | Women of the Celtic Fiddle |
| 1:00 | Blackthorn |
| 2:00 | Black Angus |
| 3:00 | Crikey Mor |
| 4:00 | Cookeilidh |
| 5:00 | Tom Morrissey |
| 6:00 | McGillicuddy's |
Monday
| Hour | Attraction |
| --- | --- |
| 10:00 | Jermey Walsh & Calvin Cairns |
| 11:00 | Terry Boyle and Ceilidh Briscoe |
| 12:00 | The McCandless Family |
| 1:00 | Blackthorn |
| 2:00 | Crikey Mor |
| 3:00 | Knackers Yard |
| 4:00 | Knackers Yard |
Joe Higgins
Joe Higgins is a solo Scottish singer/songwriter,who immigrated to Canada in the mid 90's and has performed locally ever since. Prior to coming to Canada, Joe performed in Glasgow, London, Germany and Austria. Joe has performed at past Highland Games and his Celtic songs have been played on CFUV and CBC radio stations.
Coastline
Coastline is a Victoria based string ensemble comprised of BC's top young musicians coached and mentored by renowned fiddle phenomenon, Ivonne Hernandez. This award-winning band has already been making a name for themselves since their inception in January 2013. With fiddles, cellos and guitar, the group of talented teens plays a diverse and exciting repertoire of fiddle tunes from around the world. Their debut album was a 2 time Canadian Folk Music Award nominee and they just released their highly anticipated new album called 'The High Drive'. www. coastlinefiddle.com
Black Angus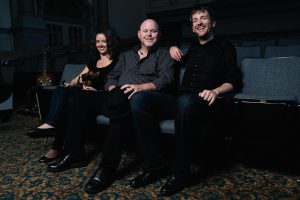 Black Angus means good songs, good humour, good friends, and good whiskey. Gareth Hurwood is the voice, the guitar, the passion and the poetry. Alex MacCuaig is the driving force on upright bass and high lonesome harmonies. Sarah Tradewell on fiddle brings traditional fire and grace. Their performances take listeners from Vancouver Island to Ireland and back, fueled by their collaboration, and enjoyment of the music. Black Angus has great presence, is devoted to great songs, and is near-impossible to pigeon-hole. Come hear for yourselves. www.blackangusmusic.com
Crikey Mor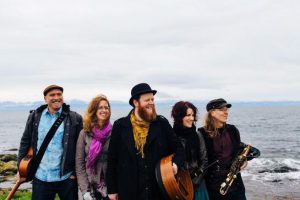 Hailing from Victoria, BC, Crikey Mor delivers a tightly arranged whirlwind of traditional Irish reels, jigs, polkas, and songs that will keep your spirit moving. The group consists of Nancy Grossert on fiddle, Tasia MacKay on flute, Eric Reiswig on uilleann pipes, Jeremy Walsh on guitar, Andrew Morris on bodhran, and all on vocals—and hopefully a bunch of wild dancers in the audience. Crikey Mor have performed in Victoria and all around Vancouver Island, including the Victoria Highland Games Festival, Providence Farm Islands Folk Festival, Folkwest, Read Island Beach Fest, many of the neighbouring Gulf Islands, and have even brought their foot-stomping music to the small Malcolm Island town of Sointula, BC. Crikey Mor also performed in Harrison Hot Springs, BC with the Harrison Festival Society, as well as CelticFest Vancouver 2014 and 2015. www.facebook.com/crikeymor
Blackthorn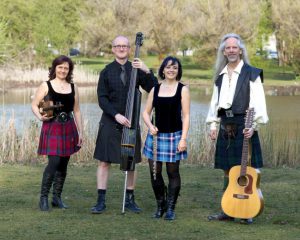 Blackthorn features four talented musicians, three of whom share lead vocals, bringing a refreshing diversity of character to the group's polished sound and all four contribute a mastery of a colourful variety of instruments. Blackthorn's extensive repertoire is rooted in the musical traditions of Scotland and Ireland as well as the folk music of English and French Canada. Their repertoire has expanded to include creative original compositions that reflect the influences of these traditions. From lively jigs and reels, to songs with rousing choruses and heart-wrenching airs and ballads, they bring the music to life with their luscious harmonies and complex instrumentation. http://blackthornband.com
Cookeilidh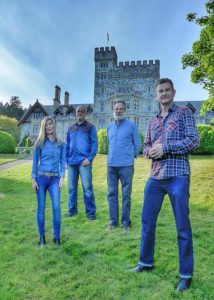 If it's a kitchen party yer after…you've come to the right place. Cookeilidh are a four piece Celtic band from Victoria comprised of a twelve string guitar, fiddle, wooden Irish flute, bodhran and vocals. Noted for their high energy performances, fasten your seatbelts; it's going to be the craic! www.cookeilidh.com
Tom Morrissey
Tom Morrissey hails from Mt. Pearl Newfoundland the son of the late Joan Morrissey, Newfoundland's first lady of song. Playing east coast music all over the world he is joined by Ian Todd from Ottawa on bass guitar, John Paul Kelly from Fort St. John on mandolin and Levi Lawson from Smithers  on drums. The band plays a blend of Celtic high energy music guaranteed to get your toes tapping. www.reverbnation.com/tommorrisseyband
Sarah Tradewell
Award winning fiddler Sarah Tradewell is a Victoria-based musician whose middle name should be versatility. Not only a fine fiddler, you may have seen her performing with the Victoria Symphony Orchestra, with singer Ken Lavigne, in shows with Blue Bridge Repertory Theatre, or at the Irish Times Pub with Black Angus. Sarah is well known to fiddlers and folkies as a fixture in the fiddle community: equally comfortable playing old time, country and Celtic music. Sarah is a two-time BC Fiddle Champion and has competed at the invitational Canadian Grand Masters Fiddle Championships. Sarah has performed at the first Victory Ceremony at BC Place for the 2010 Winter Olympic Games, in professional theatre productions (Hank Williams, Patsy Cline, My Fair Lady, Pride and Prejudice, Animal Crackers), and at the Sydney Opera House with the YouTube Symphony Orchestra 2011. Visit www.sarahtradewell.com
Ivonne Hernandez
Ivonne Hernandez has been captivating audiences and capturing the hearts of fiddle fans across the world. The 5 time North American Fiddle Champion and 2017 Juno Award nominee has had much success in performing and teaching because of her technically brilliant fiddling, added with her singing and step dancing and of course her charisma. Ivonne's show along with brilliant guitarist and singer-songwriter Tad Ruszel, has been wowing audiences and leaving them wanting more. www. ivonnehernandez.com
McGillicuddys
McGillicuddys have been please Celtic rock audiences for the past decade. With their high energy stage shows and cool spin on traditional tunes, no listener is immune to a good time. They always dress the part and the swish of the tartan can be felt all the way to the back row of their concerts. Accordion with attitude and grinding guitars always push the good times to the limit. www.mcgillicuddys.ca
Celtic Reflections
Patrick and Patricia De Gabrielle have lived in East Sooke for fifteen years, and performed together as Celtic Reflections for concerts, weddings, house parties, and special community events, from Victoria to all over the Island and the mainland, to their recent stage debut in Jalisco, Mexico. They are both trained musicians and seasoned performers with a theatre background. In addition to performing full time, they also teach in their home studio, sharing their love of music with adults and children.
Knacker's Yard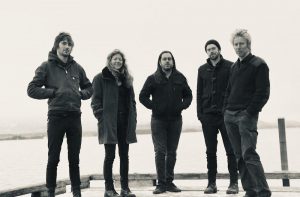 Hailing from Victoria, British Columbia (Coast Salish Territories), Knacker's Yard has been arranging and performing traditional Irish, Scottish, English, Australian, and original music since 2013. Comprised of Bronwyn Churcher (fiddle, vocals), Stephen Johnson (accordion, tin whistle, vocals), Jon MacDonald (guitar, vocals), Cody Baresich (mandolins, vocals), Shaun McConnell (bodhran, bones, chimes), and Dexter Simpson (Irish tenor banjo), the group breathes new life into the Celtic ballad and shanty genres. The energy of the band's expansive repertoire ebbs and flows with drive and dynamism, as they pay tribute to, and take inspiration from, legendary predecessors like The Dubliners, The Pogues, Planxty, The Clancy Brothers, The Chieftains, and The Wolfe Tones. Intricate lead work, driving rhythms, finely crafted arrangements, and careful attention to slow airs and ballads makes for a listening experience that is both powerful and enduring. Following the success of their first self-produced and independently released album, "The High Street Demo" in 2013, the group has unleashed a string of full length albums that include "Live at Dunsterville"(2015), "Songs of the Sea"(2016), and "The Dram & The Fray"(2017). The band have just released their fifth studio album which was recorded by Joby Baker in April of this year. The new record includes a guest appearance from the legendary Australian ballad singer Mick Slocum and has been broadcast worldwide by Maui Celtic Radio.
The Clanns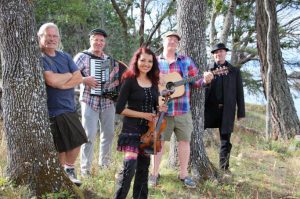 Bringing more than a pint of fervor and charm, The Clanns are a lively Celtic Rock band from Vancouver Island, BC. Drawing their influences from traditional and modern music from the likes of Flogging Molly and the Pogues, The Clanns are known for their spirited and fun shows that entertain fans of all ages.
Terry Boyle and Ceilidh Briscoe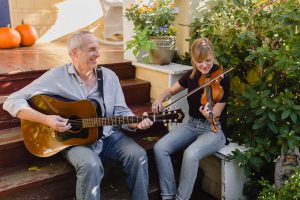 Terry Boyle is a singer/songwriter from Dublin, Ireland. With a vast repertoire of Celtic songs, some teary, some cheery, some sing-along and some from the archives, Terry has a song or story for every occasion. As a songwriter Terry's style is varied, evolving and always entertaining. Terry released a 7 song CD, "Life's Too Short" in November 2018.
Ceilidh Briscoe, from Victoria, BC, is a five time North American Fiddle Champion, an All-Ireland Fiddle Champion, and studied for six years with the fabulous 5 time All-Ireland Champion, Brian Conway.
Together, Terry and Ceilidh present a dynamic range of songs and tunes in the style of an intimate kitchen concert. Usually exhilarating and free-flowing, sometimes mellow and thoughtful, but always hugely entertaining and engaging, this exciting duo is not to be missed.
The McCandless Family Band.